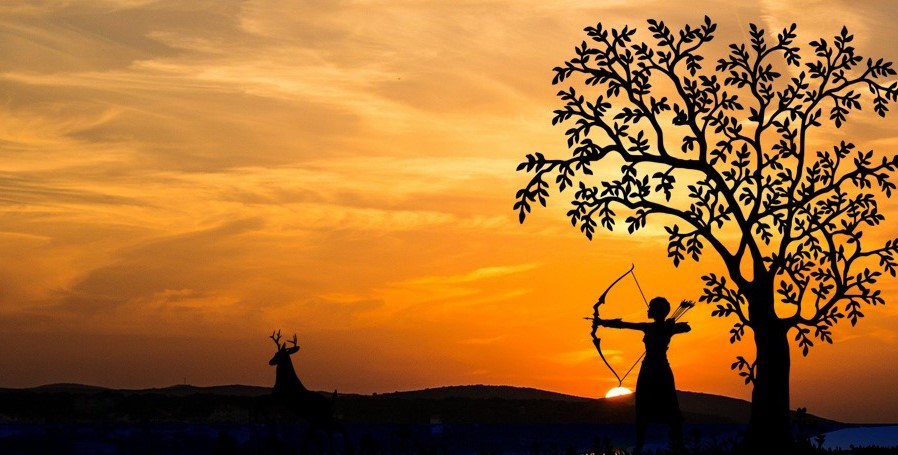 Now the series of Heirs to the Kingdom has come to an end, and whilst I am looking at other projects, I have taken a little time to sit back and reflect on what is now a full body of work.
Heirs to the Kingdom has many messages within the pages, be them about justice, the environment, betrayal or loyalty, but one message that I wanted to be loud and clear, also reflects an aspect of my own life, especially in the role of management or business owner, and that is, I believe in complete equality for all.
In recent years I have seen messages certainly around the book world, and in film that there really isn't enough female hero's, and at times I have sat back and gasped with disbelief, history is packed them, Boudicea and Joan of Arc come straight to mind, as does Wonder Woman, who has seen a huge revival on the silver screen in recent times. I cannot think of a better example of a female hero than Wonder Woman, the bi-sexual, whip and sword bearing shield maiden who fights for justice, she has it all, and even as a boy I was a huge fan of Linda Carter, who was the Wonder Woman of my 1970's youth. Literature is littered with rebellious strong women, and yet they appear ignored, Pippi Longstocking the free spirited teenager, Jo out of Little Women, and not forgetting Elizabeth Bennet out of Pride and Prejudice, as some of the strongest female character's I have read, and I would say for women they should be inspiring figures.
When it came to Heirs to the Kingdom, I wanted similar characters. Yes the book is an action and adventure story laced with magic and mythology, and there was always going to be fights and brawls, but when I first set out to write the books, I looked seriously at the situation created by the Red Death, and to me it made perfect sense that not just the males, but the females would out of a survival instinct, fight to protect what little they had. Today I know my wife is as capable as me if it came to a survival situation, she has been by my side throughout most of HTTK, and yes we have made our own arrows, and taught the kids how to filter water and start a fire with wet wood, everything in the books has been looked at and examined, and if I simply did not know, together we tried it to document the process for the writing. I will add at this point that the sexual reference to barbeque tools in book seven, is very specific to Jett Amber only, we have no knowledge of such things, although my wife has had green hair, which happened once as an accident, and she did do it once on purpose.
Heirs to the Kingdom whilst a fantasy, had to reflect real life in my mind, and so I started by creating females who would enter the books as the very ideal of what is the stereotyped female, especially in the case of Runestone. Rune is a few bits of several people I have known in my life, her long red hair and sapphire blue eyes, are from one person, her temperament comes from another, and her slender frame and kick ass abilities, came from yet another female from my life. I grew up in the 1970's around hippie culture which morphed into rock culture, and I was surrounded by friends like Runestone, Jade and Jett. It was my intention to show Runestone as would be expected of a young innocent girl, and then I began her transformation from girl in the clothes shop, to kick ass powerhouse side kick to a warrior lord, her evolution through the series has been a real pleasure to write, and for any young girl reading HTTK, I hope it shows them, that the stereotyped world is not their only choice in life.
The hippie community was filled with slender elegantly dressed, and certainly very feminine women, and it was from these people I referenced a selection of characters, the biker/rocker community gave me a sample of strong capable women, and it was from combining the two that I came up with a basic idea of how the females within the books would be shaped. For myself Runestones ability to lift a sword and fight besides her husband is a natural thing, I have seen women who are more than capable outshine the men in real life. The broad South Wales speaking, at times flaky, yet highly aggressive Jett Amber, is actually quite a normal persona from my past, and I actually think I live with Jade, as my wife is much happier in oversized hoodies, my shirts and her heavy boots. All of these people who shaped my story entered my life in a very feminine manner, and as I grew to know them and they became good friends, I began to see all their wonderful additional qualities, and to be honest there was no debate back then of treating them differently, as they were naturally seen and treated as equals. I think in many ways today the battle of the genders has become so fraught, we fail to see how alike we can all be at times, and that is a main point of HTTK.
This a post-apocalyptic story, a dystopian tale, and in a situation where the uncertainty of death hangs over you. I would say all the fights and squabbles over gender would be brushed aside, as everyone pitched in to help overcome the trials of the changes to life. It is a shame that we have such great stories literally within arm's reach, and yet it feels at times like the world is stuck in this fight for rights and power, when if such an incident happened in the real world today, everyone would see that given the situation, all of us are capable of simply getting stuck in and doing what was necessary to survive.
The biggest change I have seen is my life is the eroding of acceptance. Growing up in hippie/rock culture, I saw a different way of living, which was based more in nature and less in the world of money and stone, it shows in my writing. Today we have moved away from simply being ourselves and accepting everyone around us for whom they are, this media driven world has become critical and is all about shaming others, and I find it very sad. I would like to think that HTTK whilst a wonderful vehicle for escapism, also can show a more natural way for all of us to live together, which is the whole principle behind Robbie's Mere as the base of the Specialist's. I really love the fact that there are alpha males and alpha females' side by side, who get along and serve the community.
Human nature I feel is naturally accepting with an open mind, there will always be love and romance, sexual frustrations and expressions. Bravery will appear in the most unlikely, and fear will create doubt in the strongest, there are good and bad people in all communities, and there is certainly no shortage of bullies and those who will become their victims, and these things apply to both sexes equally. They have always been there, history tells us the tales of those times, and they are at times misleading, as they are only the words of the one person who wrote them. I think it is why I admire Celtic culture, for they believed in complete equality and in community. They lived by tribe mentality, and accepted each other as equals because their way of life depended on it, so why are we not teaching more of this to our children?
To say there is a shortage of female role models or hero's I feel is misleading, if you look hard enough you will find them. Arwen and Eowyn from lord of the rings, Lyra Silver Tongue from His dark Materials, Jo Playton from Day of the Triffids, Super Girl, Bat Girl, Black Widow, Harlequin, Storm, there are so many of various types, and there is one pretty much to suit every woman alive, and now you also have Runestone, Jade Opal, Jett Amber, Scarlet, Sapphire, Opal Green Circle, Gwendolyn, Tila, Crystal, and Amethyst to add to the collection, and the thing that makes them all admirable is, they are all true to themselves and those they support. I will add if perchance you hate them all, go follow Rags for a while, because that girl can cope with just about anything.
Heirs to the Kingdom is a series of eight fantasy and adventure books, written by Robin John Morgan, and is available from Amazon and all online book retailers.